Custom engraved pet portraits are a TIMELESS and UNIQUE Gift which pet owners LOVE! Our fur babies are our family! Our custom pet portaits engraved on solid wood are quickly becoming a favorite among pet owners across the country! There are three wood sizes to choose from: 4" (coaster), 6" (plaque) and 8" (plaque). Get yours today! Better yet - order one for a friend!
Why choose MooseTrack Boutique to engrave your pet's portrait?
I only engrave on quality hard woods specifically chosen by their engraving properties and sustainability.
I endeavor to capture your pet's personality, giving them a timeless look and feel!
Add a name or date at no additional cost.
You participate in the process by approving the drawing and receiving photos throughout the process.
Each pet portrait is finished with a clear satin protectant which brings out the beautiful colors of the wood while it enhances the engraved art.
Your purchase is supporting a small, homebased business in your community.
---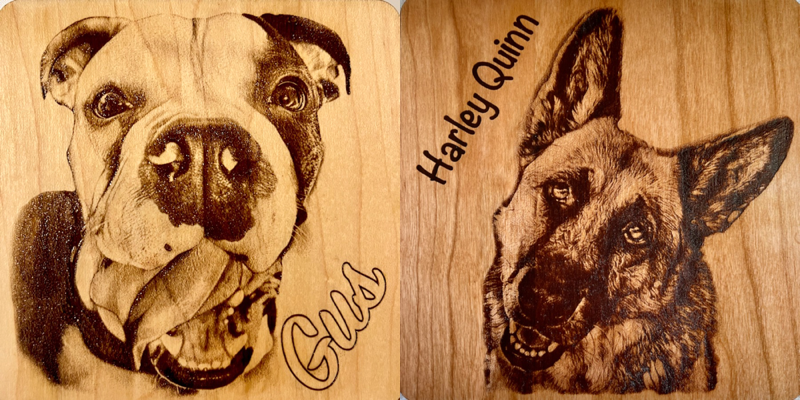 Pet Portrait Wood Choices
We are particular about the wood we work with. We've chosen to use solid Cherry and Maple based on their hardness, engrave well and durablility. As with all wood, each piece is unique and will include variations in ring thickness and/or include knots which is considered part of the artistic design. Our pieces are thicker than most at 0.3" thick and we never use plywood or veneers.
We obtain the wood from another local business, which verifies these as sustainable. During the holiday season, we include softer woods like Elm, Peach and Apple woods which are from our own backyard. These woods are recommended for decorative/ornamental use only.
We strive to make our pieces heirloom quality for years of enjoyment.